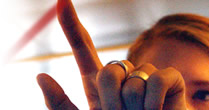 Kayote Networks, Inc. is staking out the middle ground between companies that offer bulk carrier termination services and companies of all size that originate voice traffic.

By aggregating traffic from multiple sources, regardless of the size of the originator, Kayote brings traffic to large international carriers in bulk form. This formula creates new terminating opportunities for smaller companies who would otherwise not meet the minimum requirements of the major carriers. Furthermore, Kayote offers call-by-call routing options to traffic originators of any size. Without Kayote in the middle, this service would be limited to companies generating only large volumes of traffic.



Improved Call Quality Statistics

Kayote's proprietary algorithms offer benefits to both the originating and terminating parties by improving call quality statistics such as ASR, PDD, and call set up time.



Dynamic Routing

Kayote's dynamic system for the maintenance of quality and cost information regarding termination routes allows users the choice of termination through multiple carriers including ITSPs, Tier One carriers and VoIP companies. Calls are routed on a call-by-call basis according to user-defined rules, searching for the cost/quality combination that best fits the individual partner's requirements.